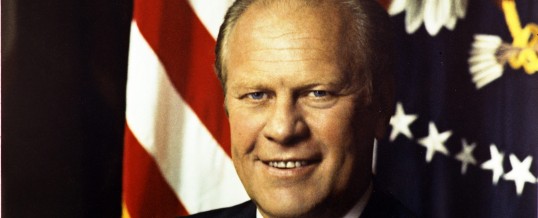 As another presidential election approaches, we turn our attention to past elections, and those men from Michigan who have run for the office.
No one born in the Wolverine State has ever been president of the United States. No one even closely associated with Michigan has ever been elected president. Wait a moment, you say. There seems to be a Ford in the road.
Our 38th president was neither a native of Michigan nor a Ford. Born Leslie King, Jr. in Omaha, Nebraska in 1913, he was known by his step-father Gerald Ford Sr.'s name since he was three years old, but was never formally adopted and didn't legally change his name until 1935. Ford spent most of his childhood in Grand Rapids, was elected to the U.S. House of Representatives from Michigan's 5th congressional district in 1948 and served for 25 years. While he served as both Vice-President and President of the United States, he was elected to neither, and lost his bid for election to Jimmy Carter in 1976.
Besides President Ford, five others with Michigan ties have run for president or for their party's nomination for president, unsuccessfully. Chronologically, we start with James G. Birney.
Birney was born in Kentucky, lived in New Jersey and Alabama, and was the anti-slavery Liberty Party's candidate for president in both 1840 and 1844, receiving less than 3% of the vote each time. In between the campaigns, he helped found Bay City in 1841 and lived there until 1855.
Take a gander at this Michigander: Lewis Cass. Due to his successful service in the War of 1812, he was appointed Governor of the Michigan Territory by President James Madison in 1813, serving until 1831. He served as U.S. Senator from Michigan from 1845 until he resigned to be the presidential candidate of the Democrats in 1848, losing to Whig candidate Zachary Taylor.
The term Michigander, today a preferred name for residents of the state, was coined by Abraham Lincoln as a put-down of Cass during a speech when both were members of Congress. Cass's other legacies include Cass City, Michigan, the nearby Cass River, Detroit's Cass Avenue, the Lewis Cass Legacy Society, and Cass Technical High School in Detroit. He is buried in Detroit's Elmwood Cemetery.
Thomas Dewey was born and grew up in Owosso, Michigan, son of George Dewey, who ran the Owosso Times newspaper. Nominated twice as the Republican candidate for president, he lost to FDR in a close race in 1944, then in a stunning upset, to Harry Truman in an even closer race in 1948.
George Romney, born in Mexico of American parents, was Michigan's governor from 1963 to 1969. He tried for the nomination of the Republicans in 1968, but lost to the eventual winning candidate, Richard Nixon.
George's son Mitt, born in Detroit, was the Republican candidate for president in 2012, losing the election to Barack Obama.