We've previously spotlighted the beautiful towns of Sebewaing, Caseville and Port Austin. Now we come to another home town of Huron County Parks:
Port Hope: Home base to two Huron County Parks, Lighthouse and Stafford, situated within Rubicon Township is the village of Port Hope. Home to 267 souls as of the 2010 census, the village comprises 1.01 square miles.
William Stafford, of Lexington, purchased the very first plot of dirt in what is today the village of Port Hope back in 1851. He was joined in this endeavor by Reuben Dimond. Stafford eventually bought several pieces of property comprising 40 acres each. These subdivisions were originally set aside by the federal government, to be given to veterans of the War of 1812. Stafford's partner at the time, Willam Southard, journeyed to see his land via ship. Due to foul weather, he was let off in a small craft unusually far from shore. Rowing furiously to beat the storm, Southard named the beach Port Hope when he finally got there, ahead of the rain.
The county park was named for Stafford due to his initial investment in the area, and his promotion of the lumber trade allowing him to build the dock and several mills with his timber. Dating back to 1858, The Stafford Lumber Mill chimney located in Stafford County Park is the last surviving standing chimney built during the great lumber boom in Michigan.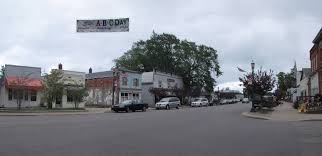 Making it through the horrendous 1871 fire, Port Hope returned to the lumber trade, but the even more terrible fire of 1881 took most of the lumber trees, and after that, the main industry of the area became farming.
Another interesting historical structure is the Port Hope Depot, located slightly to the east of where M25 intersects with Portland Avenue. Built back in 1904 in the vernacular architectural style, the depot was used for passenger service until 1926, and thereafter as a freight depot up until 1987, when train service was discontinued.