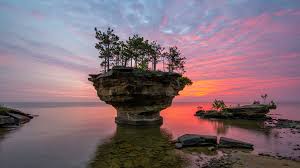 Turnip Rock is a beautiful, wondrous land formation off the coast in Port Austin. Never been there? Unbelievable. And so is Turnip Rock.
The gigantic stone developed its signature look after millennium of being worn away by waves thumping across its bow. After being separated from the mainland in prehistoric times, Turnip Rock is an island inhabited by some trees and very little else.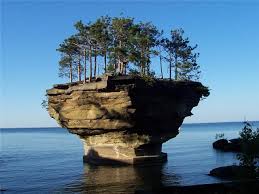 As all of the nearby land is privately owned, this real-life replica of a Yes album cover by Roger Dean is only accessible via the water or after slogging across the frozen surface of Lake Huron, weather conditions permitting.
Just off the Michigan shore, google map reference 44°04'06.0″N 82°57'32.5″W, can be found, if you know where to look, less than two miles north east of Port Austin the amazing sculptured land mass known as Turnip Rock. You'll find 20′ high trees, squirrels and very little else on the rock. Just to the west is the tip of the thumb rock, also known as the Thumbnail of Michigan, the point furthest north of the Thumb.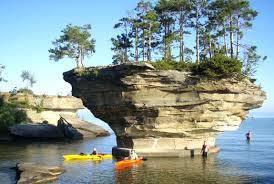 Turnip Rock remains a little-known, little-visited beautiful rock formation and minuscule tidal island. As mentioned, since it is surrounded by non-public land, one of the only ways to get there when the lake is not frozen is by kayak. There are kayaks to rent, updated maps and instructions at portaustinkayak.com.
As the kayaking journey is a 3.5 mile trek each way using the Point Aux Barques trail, experience in kayaking is helpful. The lake around the Rock is relatively shallow, and does allow voyagers to leave their boats and walk around while sending a few photos to Facebook. Please take care and don appropriate shoes, as the rocks can be quite slippery.
Tandem kayaks are not allowed on the trail to Turnip Rock. This trip is for single kayak use only, and is usually accessible from March until mid November.