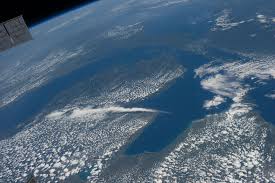 Photo Credit: ISS-36 Lake Michigan and Lake Huron. From Wikimedia Commons, the free media repository
So, just how big is Lake Huron?
With a surface elevation above sea level of 577 feet and an average depth of 195 feet (32 fathoms 3 feet), our wonderful Lake Huron is the 2nd largest Great Lake, with 23,007 square miles of surface area, (9,103 of which is Michigan territory). It's the 4th largest freshwater lake on the planet, topping off at 850 cubic miles of ...
Continue Reading →