Here's a sample of the local onsite beer producing establishments in and around Huron County:
Thumb Brewery 6758 Pine St, Caseville, MI 48725
Situated in a late 19th century historic house in the middle of Caseville, the brewery near the waters of Lake Huron brings back the past feel of the thumb with great beer. Definitely a must-see spot in Caseville. There are now 17 guest brews along with 11 in-house brews including West Coast IPA, Oatmeal Stout, and Pilsner available. Not open during the winter.
Frankenmuth Brewery 425 South Main Street, Frankenmuth, MI 48734
Known as the country's first microbrewery. Begun in 1862 the brew house is considered Michigan's original craft brewery. Founded by John Matthias Falliers with cousins William Knaust and Martin Heubisch, the current building stands on the original site. Adopting several different names, such as Cass River Brewery and Geyer Brothers Brewing Co., the original name was returned to in 1980. Brewery tours available.
Tilted Axis Brewing Co. 303 W Nepessing, Lapeer
Tilted Axis sits in the center of Lapeer. The establishment is in a structure first built in 1893 and originally meant for the DE Holland Jewelry Company. Beer is produced on site in the 3.5 BBL facility. The English Pub Style system is in use, featuring 2 – 7BBL fermentors, 4 – 3.5 BBL fermentors and 10 Serving/Brite Tanks. Tilted Axis provides American style ales containing as many local ingredients as possible.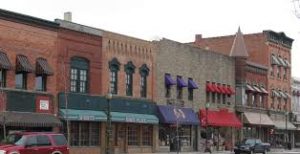 Bird Creek Farms 282 Grindstone Rd.Port Austin
This is an organic farm that has a tap room connected to it. A variety of beers are featured on draft each week. The tap room is closed during the winter, being an outside venue. In the warm part of the year, a nice spot for some lunch and a pint whilst watching lawn games.