Is it time to start getting ready for this season's camping? The plain and down-to-earth reality of camping is enjoyed for its back-to-basics focus on the fundamental aspects of living: shelter, sleeping, eating. The contrast of this simple existence with our normal daily life is part of the appeal, but there are ways, simple ways, to add convenience to your "roughing" it in the wild.
Here are a few simple ideas:
Charcoal briquettes carrying and storage: Use empty egg cartons as charcoal caddies.
Coffee individual serving travel bags: Using small coffee filters, place one in a half cup measuring spoon, pour in 1 to 2 tablespoons of ground coffee and then tie off the filter with unflavored dental floss. Cut away any extra filter and then place into a plastic sandwich bag and seal. Use the bags like tea bags, take one out of its plastic bag, put into a mug and add hot water. Let steep for a few minutes, and you've got coffee.
Convert any lamp into a lantern: Take a dry, empty water jug, and affix it to a regular house lamp. You will have the light spread out through your tent.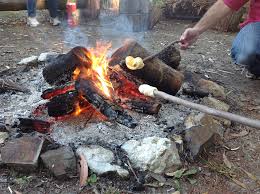 Ground lighting: For both a useful and romantic effect, ground candles are ideal. Use an appropriately sized bit, drill out the bottom quarter of taper candles. Affix the candles to craft dowels and stick them around your campsite.
Handy fire starting aid: Bring along a bunch of cotton swabs you've dipped in candle wax. They will light the fire quickly.
Learn to recognize these 3 poisonous pieces of vegetation: Know your poison elm, ivy, oak and any other dangerous plants in your camping area.
More efficient match lighting: Attach a sheet of sand paper onto your box of matches. Lighting the fire requires a bit less effort.
Pack up your spices: Use clean, empty Tic Tac containers to take camp-size amounts of your favorite spices, requiring little space.