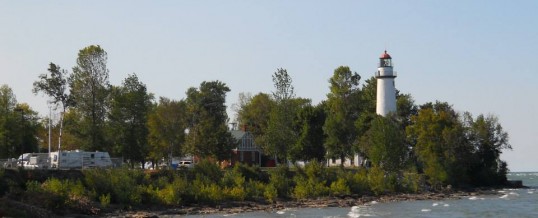 The existing light tower and keeper's dwelling were built in 1857 and today have been completely restored by the Society and the Huron County Road Commission. The Pointe aux Barques Lighthouse is the oldest continuous operating light on the Great Lakes, having survived the fire of 1881, the storm of 1913 and the Armistice Day storm of 1937. Our light still shines brightly over Lake Huron for ships and mariners to this day. The lifesaving station, the first on the Great Lakes, was built in 1875 and was credited with over 200 rescues before closing in 1937.
2018 Lighthouse Schedule
**The Museum is open every day from 10:00am until dusk starting with Memorial Day weekend and
closing October 14th (There is no admission charge. Donations are greatly appreciated).
**Gift Shop will be open Tuesday thru Sunday from 10:00am to 5:00pm
April 28 – Director's Meeting
May 1 – Lighthouse Park Opens
May 19 – Bi-Annual (Open to all) Meeting at the Lighthouse Museum – 10:00am
Work Projects to prepare the Museum for opening (Pot-Luck Lunch will be served for volunteer workers)
May 26 -Museum opens for the season
Gift Shop opens – 10:00am to 5:00pm
Tower is open for climbing – 10:00am to 5:00pm
May 27 – Tower is open for climbing – 10:00am to 5:00pm
June 9 – Wedding at the Lighthouse 4:00 pm
July 4 – Gift Shop is open – 10:00am to 5:00pm
July 7 – Tower is open for climbing – 10:00am to 5:00pm
July 8 – Tower is open for climbing – 10:00am to 5:00pm
July 14 – Wedding at the Lighthouse 1:00 pm
July 21 – Director's Meeting at the Lighthouse Museum – 10:00am
July 21 – Wedding at the Lighthouse 11:00 am
August 4 – PABLS annual Heritage Day Festival – 10:00am to 4:30pm
August 18 – Wedding at the Lighthouse
Sept. 1 – Tower is open for climbing – 10:00am to 5:00pm
Sept. 2 – Tower is open for climbing – 10:00am to 5:00pm
Sept. 15 – Bi-Annual (Open to all) Meeting at the Lighthouse – 10:00am
Sept. 29 – Huron County History Weekend
Tower is open for climbing – 10:00am to 5:00pm
Sept. 30 – Tower is open for climbing – 10:00am to 5:00pm
For additional information call (989) 428-3035 or email Pointeauxbarqueslighthousesociety.org
Tours, Groups and Weddings will be posted when booked