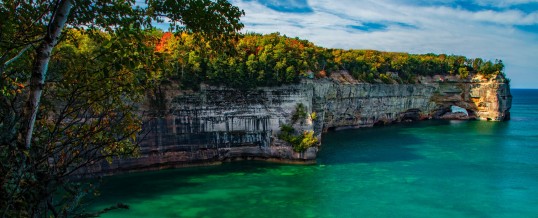 Our Huron county campgrounds are closed for the winter now. Here are some wonderful destinations throughout our state you might want to visit:
Munising, MI 49862; (906) 387-3700
Backcountry camping permit required. Hike through a forest of white birch from Twelvemile Beach and marvel at the wondrous colors of the namesake Pictured Rock Cliffs. Wonder at the marvelous oddly-shaped sandstone monoliths such as Chapel Rock and Miner's Castle. Gaze in awe at the pieces of shipwrecked vessels surrounding the lighthouse at Au Sable Point.
3303 Headquarters Road, Ontonagon MI, 49953-9087; (906) 885-5275
Recreation Passport Required. Enough snow for all your skiing, snowboarding and snowshoe needs among an unusually stunning landscape filled with towering old-growth hemlock-hardwood trees spread over 59,020 acres.
Laird Township, MI 49958
A brief, rugged trek into the Sturgeon Gorge ends in a 25 foot waterfall in this beautiful, almost hidden part of Ottawa National Forest. Listen for the Hermit Thrush singing as the wildflowers flourish in the shadows. Motorized transportation is not allowed in the Sturgeon River Gorge Wilderness area.
41382 W. M 123, Paradise MI, 49768; (906) 492-3415; Camping reservations: (800) 44-PARKS
Recreation Passport Required; . It's a long way to Paradise from the Thumb, but the falls, surrounded by cedars in the cold is worth it. There are, in fact, 2 separate waterfalls comprising Tahquamenon Falls; each set close to Lake Superior. The upper falls is colored a root beer-brown by the cedars bleeding into the water.
12032 Red Arrow Highway, Sawyer MI, 49125; (269) 426-4013
Recreation Passport Required. Climb Mt. Fuller, Pikes Peak, and Mt. Edwards, as well as Tower Hill at 240 feet (73 meters) above Lake Michigan, all sand dunes in the park. There's no better vantage point for Lake Michigan in the winter. Also available is hiking the dunes in the snow and cross-country skiing.