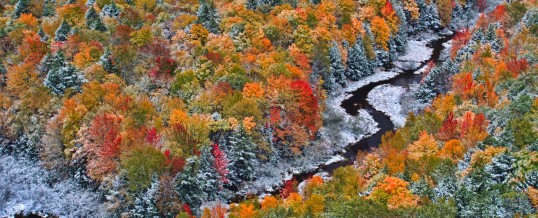 It's that wonderful time of the year when we rejoice in our gratefulness and celebrate the changing of the year. Up and down our wonderful state, wintertime is celebrated. Here is a sampling of the more unique Michigan fests:
Christmas, Michigan. Yes, Virginia, there is a town called Christmas in Michigan. A small, quaint town of under 500 souls on Lake Superior in the U.P. between Au Train and Munising, where every day is Christmas. The village is adorned with Christmas trappings 365 days a year, and statues of elves, reindeer and other fixtures populate the hamlet.
Driving past homes with extensive holiday light displays: This has become a national phenomena, perhaps encouraged by Hollywood in movies such as "National Lampoon's Christmas Vacation" and "Christmas with the Kranks" among others. Michigan, as the American birthplace of driving, has a number of well-known, oft-visited, annual streets and routes that are the most popular (and therefore, crowded) venues for viewing our neighbor's temporary outdoor electric artwork. These include Brooklyn's Nite Lites at the Michigan International Speedway, Hines Drives's Wayne County Lightfest, and Grand Rapids' Christmas Lite Show. Don't forget to turn your lights on before you leave!
Mitzvah Day. A day of inter-faith volunteerism and community. On Christmas Day each year, Jewish and Muslim volunteers take the place of Christian volunteers at hospitals, churches, etc, allowing them to spend the day with their families. The day is said to be a joy both for the folks at home, given a day off, and for the volunteers helping their community-spirited fellows and partnering with their inter-faith neighbors.
Sinterklaas Eve in Holland, Michigan. Each December 5 in the city as Dutch as its name, the Netherlands version of Santa, who goes by Sinterklaas, rides into Holland on a white steed, decked out in a red cape and wearing a bishop's hat, as the original St. Nicholas was a bishop.
Szopka in Hamtramck, Michigan. Once a Polish-dominated enclave almost surrounded by Detroit, the now Muslim-majority town still hosts an extensive display of elaborately decorated Nativity Scenes, called Szopka in Polish, at the Polish Art Center for two months starting in November.