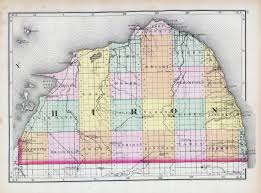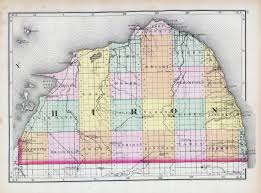 Huron County, Michigan has 33,118 citizens as of the 2010 census. The county seat is the city of Bad Axe.
Situated in the northern part of what's called the "Thumb of Michigan", Huron County is a peninsula with Sagninaw Bay and Lake Huron on three sides. There is almost 100 miles of coastline in the county, starting at Sebewaing on Saginaw Bay in the west, and wrapping around to White Rock on Lake Huron in the east. While tourism, both from other parts of Michigan such as Detroit, Saginaw and Flint and most regions of the U.S. and Canada, is a major part of the Huron County economy, the largest income comes from farming.
The earliest known people in what is now Huron County were the Sauks. They were replaced by the Ojibwa people and it is the Ojibwa who lived in the Michigan Thumb when the first European visitors, the French, arrived in the decade before 1700. This gave France claim to the territory, and it remained French until the French and Indian War, during which ownership of the land went to the British. Some years later, what would become Michigan was granted to the colony of Virginia.
The word Huron, as used for both the Native Americans, the Great Lake, and later, the county, comes from the French word "hures", meaning heads. It was used by the first French trappers who encountered the Ojibwa natives and marveled at the flamboyant ways they decorated their hair and heads. The Hurons were later displaced by the Iroquois Nation.
The area was part of both Sanilac and Tuscola counties when  Michigan became a state. On the first of April in 1840 Huron County was established by an act of the Michigan Legislature, and became a fully independent county on January 25, 1859. The original county seat was Harbor Beach (then known as Sand Beach, where it remains until a fire destroyed the county courthouse there in 1865. The seat of county government was then moved to Port Austin, and finally, in 1873, to its present location in Bad Axe.
I