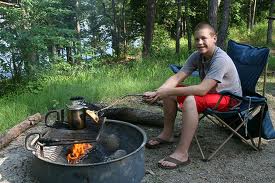 Here are some fun and simple meals to enjoy during your stay at Huron County Parks, or anywhere else good hearty food is appreciated:
Breakfast Around the Campfire:
Egg Michigan:
English muffins toasted on the grill, scrambled eggs, and either bacon or sausage patties. All can be cooked on the same griddle and put together like the breakfast sandwich that the place with the arches sells.
Plastic Bag Omelet (tastes better than it sounds):
In a ziplock bag, mix your eggs and and all omelet ingredients. Drop into a pan of boiling water and let it cook over the fire until done. Since all campfires or stoves are different, cooking time will vary. City folk empty the bag onto a plate, reg'lar folks eat it right out of the bag.
Lighthouse Egg:
Take a slice of bread and tear a hold an inch diameter from the center of the bread. Put it in an oiled frying pan, crack open an egg in the hole and fry. Eat the piece of bread you tore out while you are waiting.
Chuck Wagon Dinners:
Hobo Stew:
Mix hamburger, potatoes, carrots and onions in foil. Add salt, pepper and a bit of garlic. Cook in foil over campfire until hungry.
Cluck-tators:
4 baking potatoes, peeled and cubed
2 skinless, boneless chicken breast halves – diced
2 medium red bell peppers, chopped
1 large white onion, chopped
3 celery ribs, chopped
2 cups favorite barbeque sauce
Make four foil packets by the following method, using 1-foot squares of heavy duty aluminum foil: fold square in half and smooth flat. Seal each of the narrow ends by folding over each edge three times to make a 1/4-inch border, smoothing flat after every fold. You should now have a foil packet that is open on one long side. Repeat to form four packets.
In a bowl or resealable plastic bag, combine the potatoes, chicken cubes, red peppers, onion, celery, and barbeque sauce; mix well. Evenly divide the mixture among the foil packets. Roll up the open end of the packets to seal.
Place packets on a grill over the coals of a fire. Cook until the potatoes are tender and the chicken is fully cooked, about 25 minutes, depending on the intensity of the heat.
Share your Campfire Favorites:
Add a comment to share your own recipes for cooking while camping.