What to do on a snowed-in day in Huron County? It's a little too chilly to camp, and all that snow complicates that. How about a nice tome or two to while away the gray day? Here are a few suggestions, all should be available at your fine book store or website.
Huron County, Michigan by the Huron County Historical Society; this historical work focuses in on the histories of the Thumb communities of Bad Axe, Caseville,  Harbor Beach, Port Hope, Sebewaing, Port Austin, Elkton,  Pigeon,  Ubly, and White Rock in particular.
Michigan's Thumb Drive by Michael J. Thorp; sub-titled: "A ride around M-25 Michigan's Blue Water Highway", a travel guide mixing history and geological survey.

Murder in the Thumb by Richard W. Carson; recounts the 1976 disappearance of Caro teenager Robin Adams.
Rails Around the Thumb by T.J. Gaffney; wonderful photo album depicting the now gone but once-essential railroads and trains of more than a century ago.
Startled from their Graves: Ghosts of Michigan's Thumb and Upper Peninsula by Janice Langley; spooky stories, perhaps compiled from 19th century tales, include:  a left-over spectre still hounding Fayette, spooks photo-bombing tourists on a fishing dock; a hunting lodge of spirits, wet phantom footprints and others.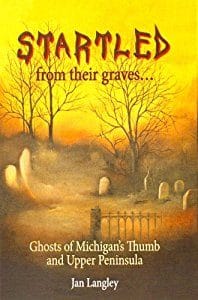 The Thumb Pointed Fingers by Jacki Howard; a detailed account of the unsolved deaths of the spouse and children of Carrie Sparling. Told with excerpts from diaries and the first person account of the author, a member of the family.
Thumb diggings;: Adventures into Michigan's Thumb area by Neva DuMond; several historical forays into the birth and development of Huron County settlements such as Sanilac Township, Davisville (which is now Croswell), and others.
Traveling Michigan's Thumb by Julie Albrecht Royce; with the sub-title "Exploring a Shoreline of Small Pleasures and Unexpected Treasures", this is a travel guide and companion through the area, with some local history added in.