One of the longest boat races on freshwater in the world runs right by the Thumb. The famous Bayview Mackinac Boat Race, put on by the Bayview Yacht Club of Detroit, is also one of the largest races, attracting more than 200 competing yachts for the most recent running, July 16-18, 2016.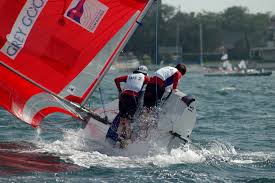 Now starting in the southern end of Lake Huron, less than 5 miles to the north of Blue Water Bridge, the race course has been altered five times since the first regatta in 1925 with the sloop Bernida skippered by Russ Pouliot winning against 12 yachts. The are currently two routes run by different fleets of participants. The Shore Course sails up the shoreline of Michigan, while the Cove Island Course rounds a buoy set near the Cove Island in the northeastern area of Lake Huron. Both courses run the length of Lake Huron, and end near Mackinac Island in the Round Island Channel.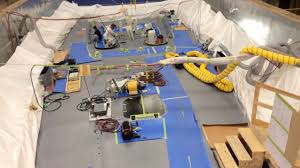 Boat Night is the celebration held annually the night prior to the start of the boat race. For the event, both sides of the Black River in Port Huron are filled with people, both participants and those there to gaze at the yachts, watch the race and cheer them on.
A new innovation involving the boat race, for the past 7 years, has been the availability of online surveillance of the race. All participating boats are providing GPS data to the race website, which is publicly accessible. The positions and speed of the yachts can be monitored in this way.
Traditionally, the final finisher is dubbed the "pickle boat", a term akin to that from boating in England, when the last boat is named the "Fisher". The type of boats that would race were also the boats that would be used to fish for herring, then pickle them while during the trip home. The last boat back into port was said to have taken too long to "fish and pickle".
The awards presentation for the race, as well as a celebration of all the participants has taken place since 2012 on the lawn below the Grand Hotel in Mackinac. Prior to that the party and presentation of flags and trophies was held on the lawn of the Mission Point Resort.