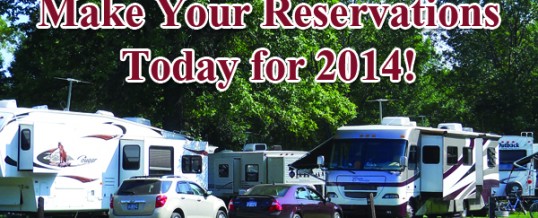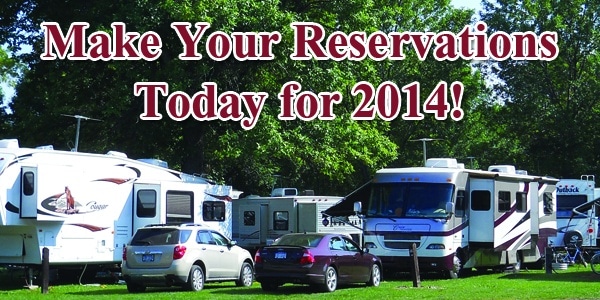 Beginning Monday, December 16 at 12:00 p.m. EST campers can book their campsites for the 2014 camping season.  Huron County Parks urges campers to book early for their stay at the parks.
This season campers will notice some highly anticipated changes to rules and nightly rates. New for 2014, the $7 booking fee that was assessed to every transaction has been removed. Weekly and monthly rates have been removed in favor of a more streamlined nightly-booking structure. The additional $5 nightly cost for festival camping has been removed as well. Currently the only weekends that will be assessed an additional fee are the peak weekends of Memorial Day, 4th of July and Labor Day.
After a very busy 2013 season, Huron County Parks expects campsites for 2014 to fill up very quickly. Space at all of the parks is in high demand, especially for holiday and festival weekends.
Due to the extremely high demand for campsites during the festivals for Cheeseburger in Caseville and Ribstock, it is now required to book a minimum stay at Caseville County Park. Cheeseburger reservations will be restricted to those who can book 18 or more nights. Ribstock will be restricted to those booking 4 or more nights.
In addition to rate changes for all of the parks, several significant improvements have been made to the Huron County Parks website to increase user experience. This includes the addition of campsite descriptions during booking, a calendar of events, and more. The site has also been restructured to give visitors more easily accessible information on park amenities rates and maps.
The Huron County Parks system of six overnight campgrounds offers campers a wide range of locations and amenities to fit virtually every need. The Parks are situated in Michigan's beautiful and historic Thumb Area, offering camping, hiking, boating, fishing and a variety of activities for the whole family.
Campgrounds include Caseville County Park, Lighthouse County Park, Oak Beach County Park, Sebewaing County Park, Stafford County Park, Wagener County Park, and three day use facilities to enjoy as well.
All parks will open their gates May 1, 2014 with Caseville opening early on April 15. Campgrounds offer everything from cabin rentals, lake view, full hookup sites, to rustic camping and more.